Till minne av Dr Josef A. Stark.
(in english below)
Till Josef Stark's minne
Kontakt/Contact
Awardees - Josef Stark Scholarship Foundation
2004 -

Norway

–

Nils Drivdal, special award


2005 -

UK

–

Richard Jefferson


2006 -

Sweden

– Patrik Berg
2007 -

Slovenia

–

Elis

Kadic




2008 -

Vem blir stipendiat 2008?

Första stipendiaten! Vem blir stipendiat 2008?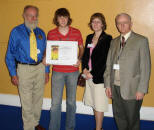 Utdelat under Apimondia på Ireland august 2005 till: Richard Jefferson Från höger Professor Octaaf Van Laere, Belgien, Dr Katarina Stark, Uppsala, utdelare av stipendiet, Richard Jefferson, Whitby, England tar emot stipendiet och Terry Clare, ordförande i BIBBA och ordförande för Symposiet för mörka bin.
BIBBA wishes to propose Richard Jefferson who is 18 years of age and is known to us as a quite unassuming young man.
He has been well known to the Yorkshire Beekeepers for some years as his Grandfather who is an Ex President of the Yorkshire Beekeeper's Association has been taking Richard to meetings and teaching him beekeeping since he was very small.
Richard passed his Basic Beekeeping Examination when he was 14.
He has carried out tasks such as making nuclei for re-queening, shook swarm preparation, taken colonies to heather and extracted honey crops. He has given demonstrations in bee's wax preparation and in the making of candles.
Richard has now taken his Advanced Education Examinations in Electronics, Mathematics, Physics and Business Studies and awaits the results in August.
He is at present in full time employment with an Electrical Engineer in his home town of Whitby, but there will not be a problem if he is successful in obtaining this award.
He will be going to Apimondia with his Grandfather from the Sunday until the following Friday.
Regards Tom Robinson.
Andra stipendiaten! Vem blir stipendiat 2008?
Andra stipendiaten blev Patrik Berg från NordBi-reservatet i Jämtland, på förslag av Karl Drakenberg.
---
Den första mars 2004 förlorade biodlarsverige sin kunnigaste, lojalaste och mest erfarne medlem och lärare när Dr. Josef A. Stark avled i sitt hem i Nibble, väster om Uppsala.
Josef Anthony Stark föddes 18 augusti 1942 i 'regio di Italia', i nuvarande Slovenien, som yngste son till agronom Anton Starc och hans hustru Olga, lanthushållslärare. Familjen hade nära anknytning till Österrike, fadern var utbildad i Graz och Wien och morfadern tjänstgjorde under ett tiotal år hos kejsar Frans Josef i Schönbrunn. Josef själv tillbringade somrarna i Österrike, sattes i internatskola i Kroatien och tog där gymnasieingenjörsexamen med inriktning på lantbruk. Efter militärtjänsten, fallskärmsjägare, emigrerade Josef till Sverige 1965, tog agronomexamen 1975 och agronomie doktorsexamen 1982. Vid Sveriges Lantbruksuniversitet arbetade han sammanlagt i 33.5 år, som chef för biavdelningen 16 år.
Störst är naturligtvis förlusten för hans fru och dotter, men även för oss andra är förlusten mycket svår.
Tyvärr hade han inte tid, fullt verksam som han alltid var, att dokumentera alla sina kunskaper i skrift eller bild.
Och nu är vår vän och mästare borta. Vi saknar både hans person, som mycket omtänksam vän, och som enastående kunnig lärare, alltid ivrig att dela med sig av sina kunskaper till alla som ville ta del av dem.
Josef begravdes fredagen den 12 mars i S:t Lars katolska kyrka i Uppsala under militära hedersbetygelser med fanvakt, bärare och hedersvakt ur Högvaktsstyrkan vid Upplands Hemvärn.
Anhöriga och vänner från hela världen deltog, inalles 100 personer. Slovenien representerades av ambassadör Darja Bavdaz Kuret samt av andra sekreteraren vid Stockholmsambassaden.
På minnesstuden framfördes musik av brorssonen Janez Josef Starc, som inspelats i Slovenien, speciellt för denna begravning.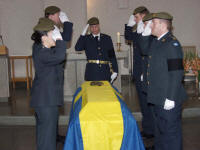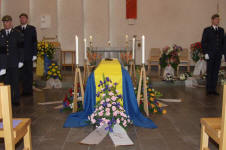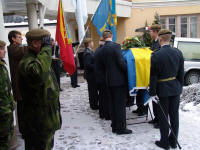 Hans Hemvärnskamrater bildade hedersvakt runt kistan.
Vill du hedra Josefs minne?
En stipendiefond i hans namn skapas, för en årlig utdelning av stipendier till ungdomar som forskar och arbetar i Josefs anda med huvudinriktning på bevarandearbetet med Apis mellifera mellifera, våra mörka nordiska bin.
Till hedrandet av Dr Josef A Starks livsgärning och minne, har därför undertecknade beslutat att inrätta en stipendiefond med syfte att, som en uppmuntran årligen utdela ett stipendium, till förtjänstfull ungdom, som främjat utvecklingen av biodling i Josef Starks anda med huvudinriktning på bevarandearbetet med Apis mellifera mellifera, vårt mörka nordiska bi. Och i enlighet med Josefs egen generösa person: Att vid utdelandet av detta stipendium styrelsen ser till stipendiemottagarens insats och egenskaper före de formella meriterna.
Bidrag till Josef Starks Stipendiefond skickas till BankGiro: 5870-8884.
Stiftarna är
För APIMONDIA : Asger Søgaard Jørgensen, Apimondia president
För SICAMM, Societas Internationalis pro Conservatione Apis melliferae melliferae:
Dorian Pritchard, England, ordförande och Nils Drivdal, Norge, sekreterare
För Föreningen NordBi: Per Ideström, ordförande och Ingvar Arvidsson, projektledare
För BIBBA - Bee Improvement and Bee Breeders' Association. Albert Knight, Tom Robinson, Bob Hirst, Ken Barran
För the Galtee Bee Breeding Group, Irland: Micheal Mac Giolla Coda, ordförande
För SBR, Sveriges Biodlares Riksförbund: Nils-Erik Persson, ordförande och Erik Österlund, redaktör
Svenska biodlare
För Sloveniens Biodlares Riksförbund: Alojz Peterle, ordförande
Cebelarsko Drustvo dr. Jozef Starc, Metlika, Slovenia (Biodlarföreningen Till Minne av Jozef Starc, Metlika)
Biinstitutet vid Universitetet i Ljubljana, Slovenien
Slovenska biodlare
För Faculty of Bioresourses, Mie Universitetet, Japan: Masanao Umebayashi
Laboratory of Entomology: Makoto Matsuura
Släkt och Vänner
Högvaktsstyrkan Upplandsgruppen, Hemvärnet 52:a Kompaniet
Bosse Malmgren, webbmaster SICAMM.
---
We remember Dr. Josef A. Stark, president of SICAMM.
Swedish and international beekeeping lost one of its most highly skilled scientist, experienced teacher and loyal college, as Dr. Josef A. Stark died in his home in Nibble, near Uppsala, Sweden 1: March 2004.
His wife Christina Stark has asked me to inform beekeeper colleges and friends on our great loss. Though his wife and daughter have suffered the greater pain, this blow is severe to us all. Due to his extensive activities, he had not the time to document his comprehensive knowledge in word or picture. Now our friend and master is gone. We mourn for his person, as a very thoughtful friend and outstanding teacher, always eager to share his knowledge to those who wanted.
Do you wish to honour the memory of Dr. Josef Stark ?
As a memorial to the life's work of Josef Stark, we are establishing a foundation for the benefit of worthy young men and women who have furthered the development of beekeeping and the conservation of the Dark European Honey Bee (Apis mellifera mellifera) in the spirit of Josef Stark. The award will be assigned annually by an international board of trustees.
In accordance with Josef's imaginative and generous approach, the board will give priority to candidates' achievements and character, as distinct from formal academic qualifications.
Contributions to the Foundation: Please send a mail for number to the Bank.
To honour "Josef Starks Stipendiefond" send to: Please send a mail for number to the Bank.
Founders

APIMONDIA
Asger S
ø
gaard J
ø
rgensen, President

SICAMM, Societas Internationalis pro Conservatione

Apis
melliferae melliferae
Nils Drivdal, Norway, secretary , Dorian Pritchard, UK, chairman

Tom Robinson
,
Albert Knight, Bob Hirst
,
Stuart Johnson, Ken Barran

Galtee Bee Breeding Group
NorthBee Society, Sweden
Per Ideström, chairman
Ingvar Arvidsson, project leader

SBR - Swedish Beekeepers Association
Nils-Erik Persson, chairman, Erik Österlund, editor
Č
ebelarsko Dru
š
tvo dr. Jo
ž
ef Starc, Metlika, Slovenia

Bee Institute, University of Ljubljana, Slovenia

Slovenian Beekeepers Association

Mie University
Faculty of Bioresourses,, Japan, Masanao Umebayashi, professor

Laboratory of Entomology
Makoto Matsuura, professor
Swedish Beekeepers
Friends
at the Swedish Home Guard, the Royal Palace in Stockholm
Bosse Malmgren, webmaster SICAMM / STARK.ST.